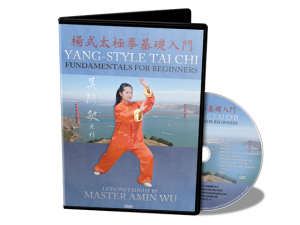 USD $29.98 each
Format:  High-definition DVD. Widescreen 16:9   All Region NTSC.
Languages:  English/Mandarin Chinese with optional Traditional Chinese subtitle
Time length:   120 minutes

Description:
This beginner level instructional DVD is a good introduction to Yang-style Tai Chi Chuan and its benefits. The 13 forms in this Tai Chi routine are fundamental to Yang-style Tai Chi.  In this DVD, the principles and lessons – foot, hand, posture, and state of mind – behind each of the 13 forms are expertly demonstrated and explained for easy learning.
This 120-minute instructional DVD includes warm up and cool down exercises, detailed step-by-step multi-angle instructions of the 8 basic standing meditation postures and 13 fundamental forms in Yang style Tai Chi.  A front view and back view demonstration of the basic postures and the complete 13-form routine provide a supplementary visual guide to make practicing easier.
Master Amin Wu's insightful teaching New and experienced students alike benefit from the detailed demonstrations and explanations.
The 13 Tai Chi forms selected for this DVD are unique in three ways.  First each of the 13 forms is easy to learn.  Second, the complete routine requires very little lateral space to practice.  Third, the forms in the routine balance your body as they have complementary motion on the left and right sides of your body.
Regular practicing of Tai Chi improves general health, from lowering stress, improving joint mobility and balance, increasing breathing capacity, as well as developing flexibility, vitality, muscular and skeletal strength and endurance.
This instructional DVD is the first English DVD made in the USA by Master Amin Wu.
CONTENTS OF THE INSTRUCTIONAL DVD:   16 Chapters
1.Warm Up
2.Basics — Hand Form
3.Basics — Foot Stance
4.Basics — Body Posture
5.Basic Tai Chi Postures
6.Demonstration of Complete Set of Yang-Style 13 Tai Chi Forms
7.Forms 1-3
Form 1:  Opening Form
Form 2:  Hold the Ball and Separate Hands
Form 3:  White Crane Spreads Wing
8.Forms 4-5
Form 4:  Brush Knee and Twist Step
Form 5:  Step Back and Whirl Arms
9.Forms 6-7
Form 6:  Turn Body and Strike
Form 7:  Fair Lady Works at Shuttles
10.Forms 8-9
Form 8:  Cloud Hands
Form 9:  Single Whip
11.Forms 10-11
Form 10:  Golden Rooster Stands on One Leg
Form 11:  Kick and Pat Foot
12.Forms 12-13
Form 12:  Grasp the Bird's Tail  (part shown in trailer above)
Form 13:  Closing Form
13.Back View:  Demonstration of Complete Set of Yang-Style 13 Tai Chi Forms (part shown in trailer above)
14.Cool Down Exercise
15.Bonus Demonstration:  Yang-style 24 Form Tai Chi Chuan
16.Credits