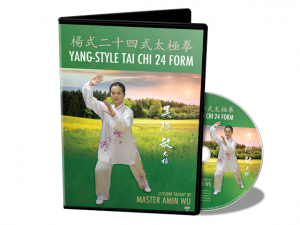 USD $39.98 each
Format:  High-definition Dual Layer DVD9. Widescreen 16:9   All Region NTSC.
Languages:  English/Mandarin Chinese with optional Traditional Chinese subtitle
Time length:   180 minutes

Description:
Yang-style Tai Chi is known for its graceful, soft, slow, continuously large expansive movements. Today Yang-style is the most popular form of Tai Chi and is widely practiced by tens of millions in the world daily.
Following the critically-acclaimed instructional DVD "Yang-Style Tai Chi Fundamentals for Beginners", this instructional DVD focuses on the 24 representative forms in Yang-style Tai Chi. Each form in this routine captures the essence of Yang-Style Tai Chi, and is easy to learn and practice by people of all ages.
For easy learning, each form in this DVD is taught from different angle with close ups and exceptionally detailed explanations on the foot, hand, posture and breathing. Front view and back view demonstrations of small grouping of a few forms in each chapter and the complete 24-form routine provide a supplementary visual guide for easy learning and practice.
Regular practice of Tai Chi calms your mind, improves your balance to prevent falls, and enhances your overall mobility, endurance, flexibility and muscle strength.
CONTENTS OF THE INSTRUCTIONAL DVD: 16 Chapters
1 Welcome
2 Front View: Demonstration of Complete Set of Yang-Style Tai Chi 24 Form
3 Lesson 1 Forms 1-3
4 Lesson 2 Forms 4-5
5 Demonstration of Part 1 (Forms 1-5)
6 Lesson 3 Form 6
7 Lesson 4 Forms 7-8
8 Demonstration of Part 2 (Forms 6-8)
9 Lesson 5 Forms 9-10
10 Lesson 6 Forms 11-12
11 Lesson 7 Forms 13-15
12 Demonstration of Part 3 (Forms 9-15)
13 Lesson 8 Forms 16-17
14 Lesson 9 Form 18
15 Lesson 10 Forms 19-20
16 Lesson 11 Forms 21-22
17 Lesson 12 Forms 23-24
18 Demonstration of Part 4 (Forms 16-24)
19 Back View: Demonstration of Complete Set of Yang-Style Tai Chi 24 Form
20 Credits